Gentoo Penguin - Antarctica Ski Expedition
Returning from remote places I find is always about the same, with absolute calm one wonders how we got to this place in our evolution of rushing around in our busy lives and how we have lost the ability to simply stand still, enjoy the moment and appreciate how beautiful life really is.
Upon returning I find myself watching people flow past me on their way somewhere and an overwhelming sensation of freedom and gratitude for what I have comes over me.  The stillness in Antarctica is overwhelming even on the stormiest of days. The sounds are nothing but surreal no matter if you are in the middle of nowhere with no one around, in the middle of a penguin rookery, watching crabeater seals tend to their young or watching the wandering albatross soar on the Drake passage while orcas swim in the wake of the boat.
While there you watch fellow travelers frantically taking photographs of everything in an attempt to capture their surroundings.  The cameras then get set aside and become a second thought once everyone realizes that some places and moments cannot be captured but instead must simply be watched and experienced.

This was my third trip down to the continent and the first time I had the opportunity to ski there. Our boat, the Sea Adventurer, was contracted by Ice-axe Expeditions who have been running ski touring trips on the Antarctic Peninsula since 2008. 
I met with my fellow travelers in New York after flying over from Iceland.  From there we flew to Buenos Aires and finally to the world's southern most town of Ushuaia, Argentina. Located on the Beagle Channel and the southern tip of the Andes Mountains, Ushuaia is famed among other things for having one of the world's most difficult prison to escape from, exceeding the famous Alcatraz prison for the simple fact that there is nowhere to escape to. From here you look south across the channel to the mountains of Chile.  To the East there is nothing but the open Southern Ocean, home of Cape Horn and the Drake Passage where winds travel unobstructed around the southern part of the world. 
We started our ski trip with a training day and ski tour at the Martial Glacier and you could sense already that there were few things on anyone´s mind apart from the Drake Passage. Most were hoping for a "Drake Lake" meaning favorable weather conditions but a selective few were quietly hoping for a "Drake shake" to get the full experience of the voyage.  The Sea Adventurer is a worthy ship; a fortified ice class 1A machine built in 1976 and can among other impressive things withstand a category 3 storm with winds blowing at 200km/h. With a crew of 80 strong and just over 100 passengers in all, we were ready to experience what the Drake Passage had in store for us.
The passage south was quiet moving through the Beagle channel and everyone was in high spirits. As the ship rounded Cape Horn things became somewhat "real" with winds blowing steady at 60 knots. For those who faired well on the ocean the sights of the Petrels and Wandering Albatross soaring over the waves made the two2 day crossing feel quick.
We studied weather maps and ice charts that showed well above average pack-ice conditions.  As we were the first ship to make for the peninsula this season we wondered if we would even be able to get to our destination and touch land. We encountered ice very early on and the captain skillfully steered the ship past huge icebergs that towered over the boat making us feel insignificant. Our Russian captain with over 20 years of navigating these waters made light work of this obstacle course and we soon found ourselves on the other side in calmer sea due to the pack-ice and soon land was in sight. There was open, ice free, water as far as the eye could see.
Our first stop was Brabant Island in Chiriguano Bay 64º south.  I had effectively made my way across the world. Starting my journey some 2000 miles from the North Pole (at 66º north Iceland) to now roughly the opposite latitude and distance from the South Pole. Brabant Island is the second largest island of the Palmer Archipelago and named by a Belgian Antarctic Expedition that explored the area from 1897-1899.
Among the sailors on the historic Belgian expedition was a young man named Roald Amundsen. At the time a first mate and later a world renowned adventurer. It felt a bit surreal reading his biography on this trip and the story of the men on the RV Belgica as now some 100+ years later we were in the comfort of our ship destined to ski the same peaks they observed. I wondered as an avid skier himself if Amundsen could ever have imagined this.
After the anchor was lowered the zodiacs were dropped and the guides went ashore to prepare the landings for passengers. Landings were opened one after the other and as it was our time to launch we made our way to the gangway and cruised ashore.
It quickly became apparent that skiing would not be as important to us as we had initially thought as we sat at our first landing and two Gentoo penguins walked ashore. Time stood still and hours went by as we looked at these curious creatures make their way closer and closer to us. The dramatic backdrop was indescribable with ice-capped mountains, seracs and icebergs, each more impressive than the last. We finally made our way to our first peak and skied down to the ocean on better snow than I could have ever imagined considering we were on a continent that receives upwards of only 8 inches of snow annually. 
Each day we had multiple options of ski objectives, historical sites and zodiac cruises. The main objective for most everyone was skiing and while guides and guests rushed out to ski we wrangled up either a historian, biologist or geologist (all on call as part of the Quark Expeditions crew) to take us around and fill our minds with awe as one does not often have the opportunity to enjoy a private tour of Antarctica.  After getting our minds fill we made our way to the nearby peaks to enjoy the peaceful nature of the place as we glided down the slopes.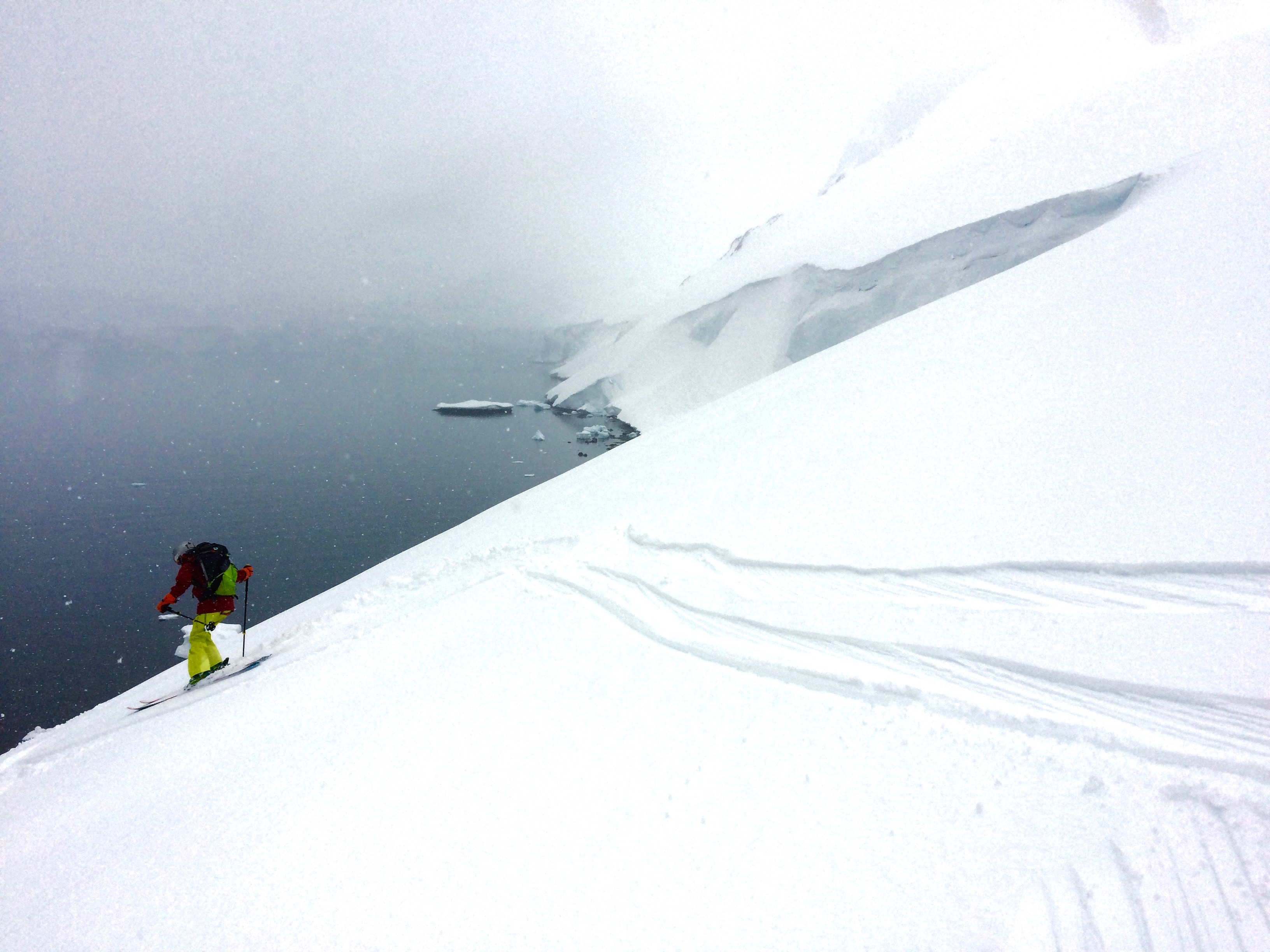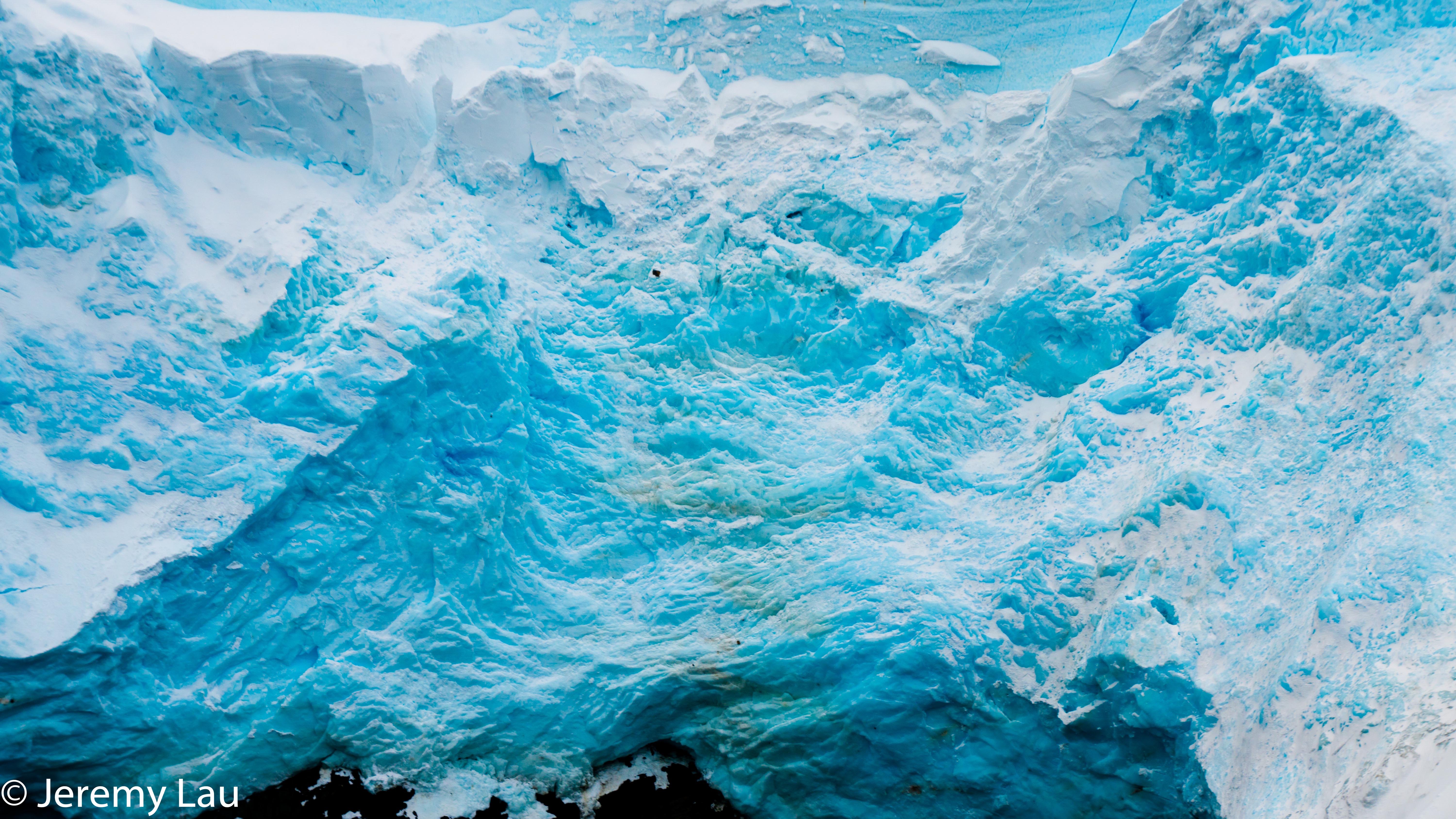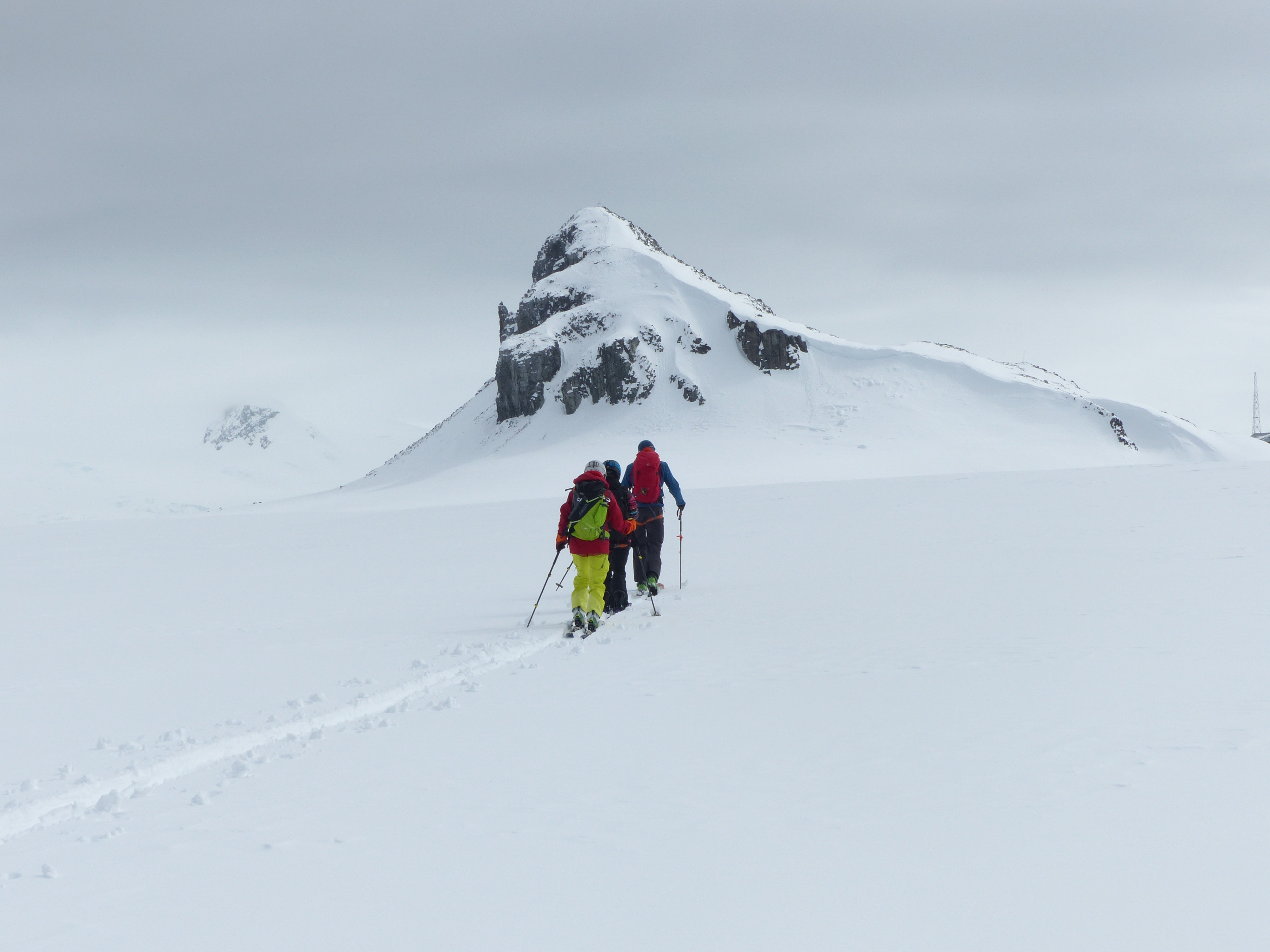 We continued following the track of Amundsen on the Belgica expedition through Wilhelmina Bay, Port Lockroy where we stopped to dig out and open the base for the pursuing dwellers that were about to arrive the following days. In exchange for this we got the opportunity to explore the British outpost. Previously a whaling harbor the location is now a museum and research station where scientists observe the effects of tourism on penguins. We were glad to hear that they do not seem to be disturbed by our presence at all.  Studies have shown that human presence has actually been effective in keeping predators at bay such as Skua birds that feed on their eggs.
One of the highlights of the trip was navigating through the 11km long and 1.6km wide (at its most narrow point) Lemaire channel.  This felt much narrower as we passed through with steep glacier filled cliffs that defy gravity suspended above the ship. We had reached the southern most point of this expedition. We used our time well and anchored the ship in Waddington Bay. Here we observed the Gentoo penguin rookery and made our first turns on the actual Antarctic Peninsula. We did not want to overstay our welcome with the threat of pack-ice moving into the channel blocking our exit so after half a day we made our way north back through the Lemaire channel. It was unavoidable to think back to Amundsen and his fellow travelers on the Belgica expedition as they mapped this area to consider the contrast and similarities of our voyages.  I can only imagine what a true adventure it would have been to sail through this unknown land with the looming threat of pack-ice and no knowledge of what lay ahead. Despite all of our modern technology along with the ship size and strength we were still at the mercy of winds and ice. Our goal still exploring although not new lands but new runs gave us all an overwhelming feeling of true adventure.
Traveling north again the Antarctic kept delivering with thick clouds and some of the largest snowflakes I have ever seen, falling like leaves in the calm air. The deck of the Sea Adventurer filled with fresh powder in no time and our marine biologist Jimmy ever present with a watchful eye off the deck shouted in excitement "Orcas". We rushed out to find a pod swimming along side us for a number of miles on our way to Charlotte Bay. Clouds lifted and the peaks came to view with our canvas freshly coated with powder, beautiful blower powder.  This was about as much as ones sensory system can take with an absolute overload of perfection.
We were at the end of our ski trip and what a way to end, skiing over 50cm of blower powder in Antarctica. We all made sure to document this moment as no one would ever believe us if no proof existed. From here our journey would take us past Chinstrap and Adélie penguin rookeries and despite the ships barometer dropping below what the gage had to offer and dragging along it´s bottom we sailed towards the Drake. With smiles all around happy to take on the category 1 storm of steady 90 knot winds (170km/h).  We felt absolute calm at heart and an overwhelming feeling of gratitude that such a place exists and that we as a human species have been rational enough to preserve it as it is.
Special thanks to my travel companions and everyone involved in making this expedition possible.
-Einar Ísfeld