Getting Here
Our base of operations is in the north of Iceland just 55 minutes north of Akureyri and outside the town of Dalvík.  All International flights arrive at Keflavik in the south of Iceland. This is 45 minutes outside of Iceland's capital, Reykjavik. The Troll Peninsula in the north where we are based is approximately 5 hours from Reykjavik by car or 35 minutes via domestic flight.
With our programs the first day is the arrival day and we ask guests to arrive at Akureyri in the evening. A group dinner is served at the lodge upon arrival. We provide the transfer from Akureyri to the the lodge (approximately 50 minutes).  On the final day of the program we recommend that guests take an evening flight out of Akureyri so that they can get the most out of skiing or riding on that day.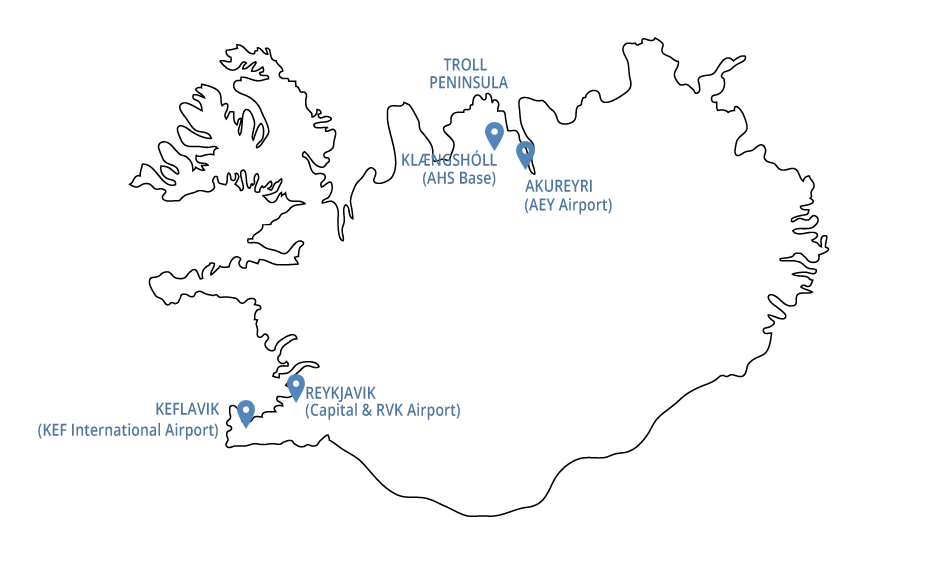 ---
FLYING TO ICELAND
There are over a 100 direct flights from Western Europe, the USA and Canada to Iceland every day operated by 25 different airlines. It takes about 2-3 hours to fly from Europe, approximately 5 hours from the East Coast of North America and only 7 hours from the West Coast of North America. There is one main carrier, Icelandair, which services destinations on both sides of the Atlantic. Other airlines servicing Iceland include Play, Easy Jet, Delta Airlines, SAS and British Airways. All flights arrive at Keflavik International Airport, 45 minutes from Reykjavik, Iceland's capital.
New for 2023 NiceAir will be flying directly into Akureyri Airport from Copenhagen and Germany on select days. Flights between the UK and Akureyri might be added, however this is still in the planning stage.
Private jets and charters can land at Akureyri airport (AEY) in the North, only 45 min away from our Lodge by car. Getting to us has never been this easy.
For the most up to date list of airlines that operate at Keflavík Airport please refer to the following page:  AIRLINES AT KEFLAVIK
DOMESTIC FLIGHTS
Once you land in Keflavík if you wish to take a flight to our base in the north there are several options.  
ICELANDAIR FLIGHTS DIRECTLY FROM KEFLAVIK TO AKUREYRI
This service was set to being in March of 2023, however they have recently announced that it will not begin until 2024.
ICELANDAIR FLIGHTS FROM REYKJAVIK TO AKUREYRI
Transfer (approximately 45 minutes) from the Keflavik International Airport (KEF) to the Reykjavik Domestic Airport (RKV) to take a 35 minute flight to Akureyri (AEY).  Please note that the domestic airline servicing Akureyri is IcelandAir (IcelandAir took over AirIceland Connect in March of 2021).

For flights between Reykjavik (RKV) and Akureyri we recommended the following itinerary with Icelandair:
ARRIVAL DAY:  FI50 departing Reykjavik around 18:00 (IcelandAir may have a different flight, however it should be the last departure of the day). If you chose to take an earlier flight to Akureyri you may have to wait in Akureyri for the evening transfer as we have limited resources for additional transfers.
DEPARTURE DAY:  FI51 departing Akureyri around 19:00 (on the last day we will stop skiing 2.5 hour prior to the departure time which will allow time to transfer everyone to Akureyri for the evening departure).
TRANSFER SERVICES BETWEEN KEF AND REYKJAVIK DOMESTIC AIRPORT:
Please keep in mind that a minimum of 2.5 hours is required from the time your international flight lands in Keflavik until the departure of the domestic flight in Reykjavik. Transfer time between airports is 45 minutes. Passengers can experience delays with baggage collection or customs. It is necessary to arrive at the Reykjavik domestic airport at least 30 minutes prior to departure. The domestic airport is very small and easy to navigate. If your connection is tight it is best to pre arrange transfer with one of the car services listed above. 
PRIVATE CHARTER
Charter your own ride with Eagle Air or Norlandair straight from Keflavik International airport or Reykjavik airport to Akureyri.
---
CAR RENTAL
Some guests prefer to do some sightseeing before or after their program so there is an option to rent a car and drive from Reykjavík to Akureyri where you can return the car so that you are not paying for unused days*. There are a number of car rental operations at the Keflavík airport and in Reykjavík. Please keep in mind that there is a typically a surcharge for one way rentals. 
The scenic drive up north takes approximately 5.5 hours (this is very dependent on road conditions and we do recommend a 4x4 vehicle during the winter and early spring).  
*If you are renting a car and keeping it through the duration or your trip you can drive directly to our base. Please contact us for directions.